June 22-24, 2017  ODC Theater, SF
"Two Dimes and a Nickel"  (World Premiere)
James Sofranko has commissioned James Graham to create this piece for his Repertory Company SFDanceWorks.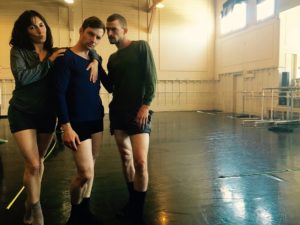 ---
James Graham & Sebastian Grubb were awarded an IZZIE (Isadora Duncan) Award for Outstanding Achievement in Performance as an Ensemble in their duet performance of JGDT's "HOMEROOM."

---
Published May 2017
Interview and conversation with Culture Vulture's David Moreno
---
Upcoming July Workshops:
July 1-3, 2017
Resodancer is producing/hosting a Gaga and JGDT Repertory workshop.
Le Croiseur Lyon, 4 rue Croix Barret, 69007 Lyon, France
July 3-8, 2017
Gaga Paris is producing/hosting a Gaga, Repertory, and Improvisation workshop taught by James Graham and Stefan Ferry.
Micadanses, Studio May B, 15 rue Geoffroy l'Asnier 75004 Paris
***With a special performance of "HOMEROOM" by Sebastian Grubb & James Graham July 7!
---