HOMEROOM
…an evening length duet about male relationships, masculinity, and human connections.
Thursday, December 10, 8pm
Friday, December 11, 8pm
Saturday, December 12, 8pm
ODC Theatre, San Francisco, 3153 17th St. @ Shotwell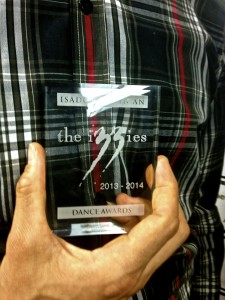 James Graham was awarded an IZZIE (Isadora Duncan Award) for his 2013-2014 season!  Outstanding Achievement in Performance as an Individual
James Graham Dance Theatre was also nominated for an IZZIE in the category of Outstanding Achievement in Choreography for "Guilty Survivor."
PAST NEWS:
Santa Cruz, California, November 6-7, 2015
(Presented an excerpt from HOMEROOM)
Sanct
Premiered April 9-11, 2015 in the University of Calgary's Dance@Night Concert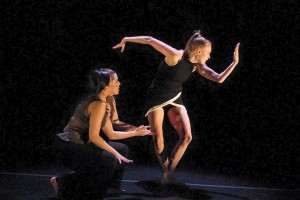 Graham choreographed Sanct for three Senior Dance Majors at the University of Calgary, in Alberta, Canada.  The trio deals with powerful forces of mystery, queenliness, and witchcraft…imagined and real.
Choreography & Performance Workshop
w/ James Graham at LINES Dance Center… Choreographic Process, and Repertory.
Live performance in Union Square April 29, 12:30pm!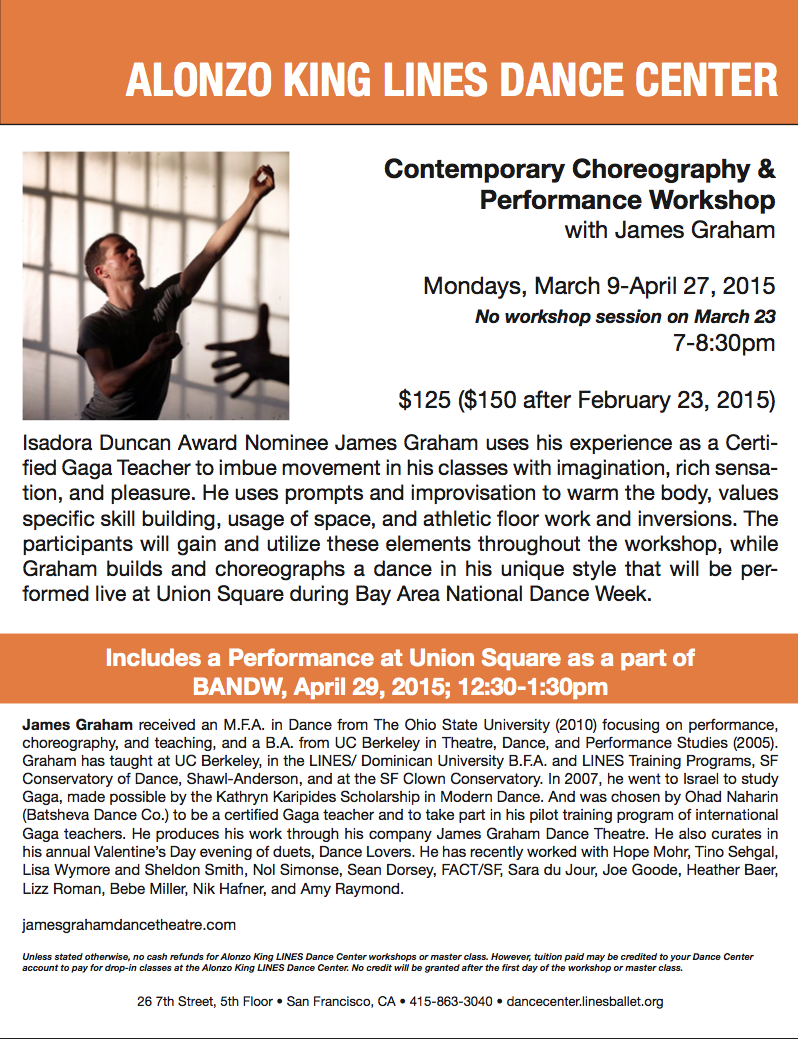 DANCE LOVERS
…duets by real-life couples, crushes, and comrades
Saturday, February 14, 2015, 8pm, (Valentine's Day) &
Sunday, February 15, 2015, 8pm
Joe Goode Annex, San Francisco, CA
James Graham Dance Theatre presents the 4th annual Dance Lovers show on Valentine's Day and the day after.  The two evenings of duets will be comprised of friends, lovers, partners, twin sisters, and other San Francisco couplings.  The duets will vary in genre and style.
Duets include:
James Graham and Sebastian Grubb
Andrew Ward and Caroline Alexander
Courtney Moreno and Chris Black
Melissa and Elizabeth Castaneda
Ashley Marie (Katie Florez and Mary Kate O'Sullivan)
Michael & Roland (premiering in Dance Lovers)
In his second in a series of three duets, James Graham allows his choreographic and performative choices to stem from looking at control and power as they reside in prisons, colonial/colonized environments and relationships, in the wilds of nature, and in aspects of sexuality…namely S&M. Think French-artistocratic-Wild-Panthers-in-a-Zoo-Men-With-Beards-Begrudgingly-and-Agressivly-having-Sex. Premiered in February 2015.
Zellerbach Family Foundation Grant
William and Flora Hewlett Foundation Grant
JGDT recently received these two competitive Grants for his newest work "Michael & Roland," a duet with Sebastian Grubb exploring aspects of power and how we deal, play, create, and take it.
"Guilty Survivor"
November 22-23, 2013
Joe Goode Annex, San Francisco, CA
Let Us Compare Chronologies, an evening of new dances by Katharine Hawthorne and James Graham, draws together works marking the passing of time and measuring how past events shape our present understanding. Graham presents Guilty Survivor, a meditation on what it means to live in the aftermath of the 1980's as a gay man in San Francisco, while also dealing with a feeling of "missing the party." The piece promises to expand on Graham's recent work "Dear Harvey," which was selected for performance with the San Francisco Gay Men's Chorus in their June concert Harvey Milk 2013 at the Nourse Theatre. "Guilty Survivor" will include performances by Graham, Chad Dawson, Charles Slender, & Liz Tenuto.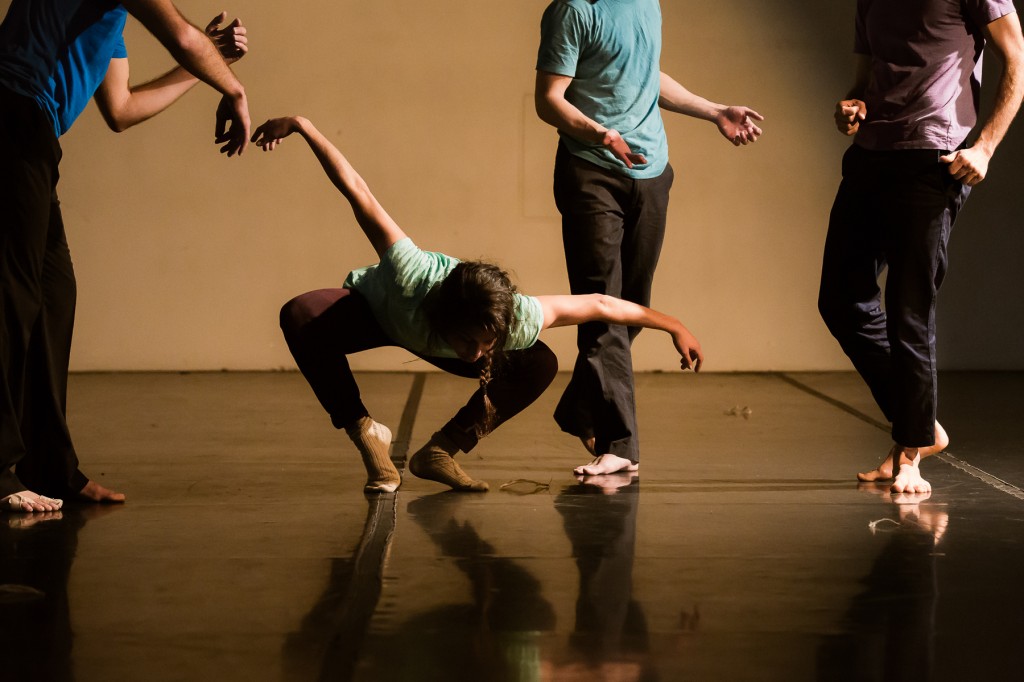 "Thirtysomething"
September 24-27, 2013
Daegu, South Korea
Colleagues HyunJung Lee, Maree Remalia, and James Graham created "Thirtysomething" for the 15th Daegu International Dance Festival.  The work dealt with being in their thirties, identity, nationality, and their shared life experiences of living in Israel and teaching Gaga.

"Dear Harvey"
June 26-28, 2013
Nourse Theatre, San Francisco, CA
James Graham Dance Theatre was invited to premiere this new duet in collaboration with the San Francisco Gay Men's Chorus' concert Harvey Milk 2013, Living the Legacy.
More about the show:
http://www.sfgmc.org/