Recent Activities:
James Graham Choreographed "Meta Morphic" a world premiere group work focusing on Earth, Air, Fire, Water, and Marrow (Human). April 20-29, 2017, Zellerbach Playhouse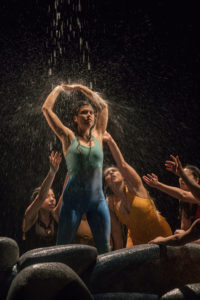 ---
The participants of James Graham's Choreography & Performance Spring Workshop at LINES Dance Center shared their culminating piece in two live performances in San Francisco…
Mint Plaza, HeART of Market, April 21, 11-12Noon
Union Square, Bay Area National Dance Week, April 26, 12:30-1:30pm
---
DANCE LOVERS 6

 February, 10-12, 2017,   Joe Goode Annex
JGDT's 6th Annual Valentine's Weekend event
…duets by couples, crushes, and comrades
James Graham & Galen Rogers
Arletta Anderson & Adam Smith
Rogelio Lopez & Andrew Merrell
Anna Long & Daniel Chenoweth
Grace Towers & Ismael Acosta
Rachel Laws & Jane Selna
---

February 3-4, 2017,   Shotgun Players' Ashby Stage
Shotgun Players presented 2015's crowd-favorite HOMEROOM.  JGDT performed an excerpt from this duet, and shared the evening with Home Mohr Dance's Manifesting.
---
Trolley Dances 2016
October 14 – 16, 2016
JGDT performed their new piece "Open Your Gate" at Trolley Dances, produced by Epiphany Productions, in the Jane Warner Plaza at the intersections of Market/ Castro/ 17th Streets.
Hoodline Spotlight Interview about Trolley Dances
---
The Charlip Project

November 4-20, 2016
James Graham is choreographed The Charlip Project…about the life of Remy Charlip who was a performer, choreographer, author, illustrator. This Eye Zen Production (Seth Eisen) will premiered at the new CounterPULSE in SF.
---
 DANCE LOVERS 5

James Graham Dance Theatre curated and presented the 5th annual DANCE LOVERS Valentine's Day Weekend at the Joe Goode Annex.
Dance Lovers pairs real-life couples, crushes, and comrades in duets that look at their relationships in their chosen style of dance and performance…incorporating modern, parkour, ballet, improvisation, spoken word, and comedy.
---
HOMEROOM
JGDT presented this evening-length duet about male relationships, masculinity, and human connections December 10-12, 2015 at ODC Theater in San Francsico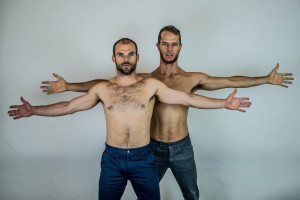 Where is Contemporary Dance? Reflections on Work by James Graham and Sara Shelton Mann, Baywatchbaywatch.com by Kate Mattingly
James Graham's Homeroom Makes Sustained Eye Contact with Platonic Love, Preview in SF Weekly by Peter Kane
James Graham's Homeroom: A Look at How Men Exist, Preview Interview in TheTripleDogDare(.wordpress.com) by Marie Tollon
---
IZZIE AWARDS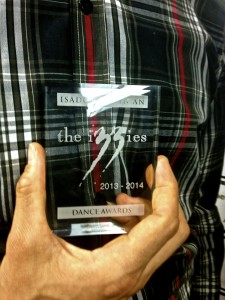 James Graham was awarded an IZZIE (Isadora Duncan Award) for his 2013-2014 season!  Outstanding Achievement in Performance as an Individual
James Graham Dance Theatre was also nominated for an IZZIE in the category of Outstanding Achievement in Choreography for "Guilty Survivor."
---
Looking Left Festival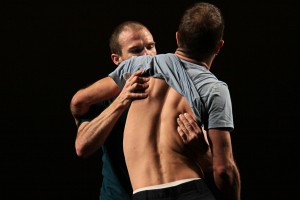 JGDT Presented their duet "Back to Back," an section from "HOMEROOM," at the Looking Left Festival, Produced by Cid Pearlman, Motion Pacific Santa Cruz, California, November 6-7, 2015
---
SANCT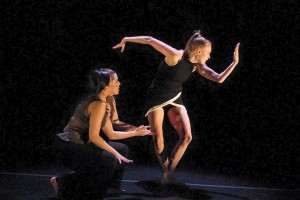 Graham choreographed "Sanct" for three Senior Dance Majors at the University of Calgary, in Alberta, Canada.  The trio deals with powerful forces of mystery, queenliness, and witchcraft…imagined and real.  April 9-11, 2015 in the University of Calgary's Dance@Night Concert
---
MICHAEL & ROLAND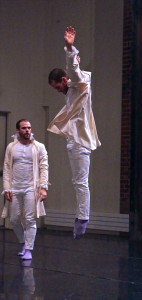 In this duet (2nd in a series of 3, forming "Homeroom"), James Graham allowed his choreographic and performative choices to stem from looking at control and power as they reside in prisons, colonial/colonized environments and relationships, in the wilds of nature, and in aspects of sexuality…namely S&M. Think French-artistocratic-Wild-Panthers-in-a-Zoo-Men-With-Beards-Begrudgingly-and-Agressivly-having-Sex. Premiered at Dance Lovers 2015.
---
GUILTY SURVIVOR
(IZZIE Award Nomination 2015–Outstanding Choreography)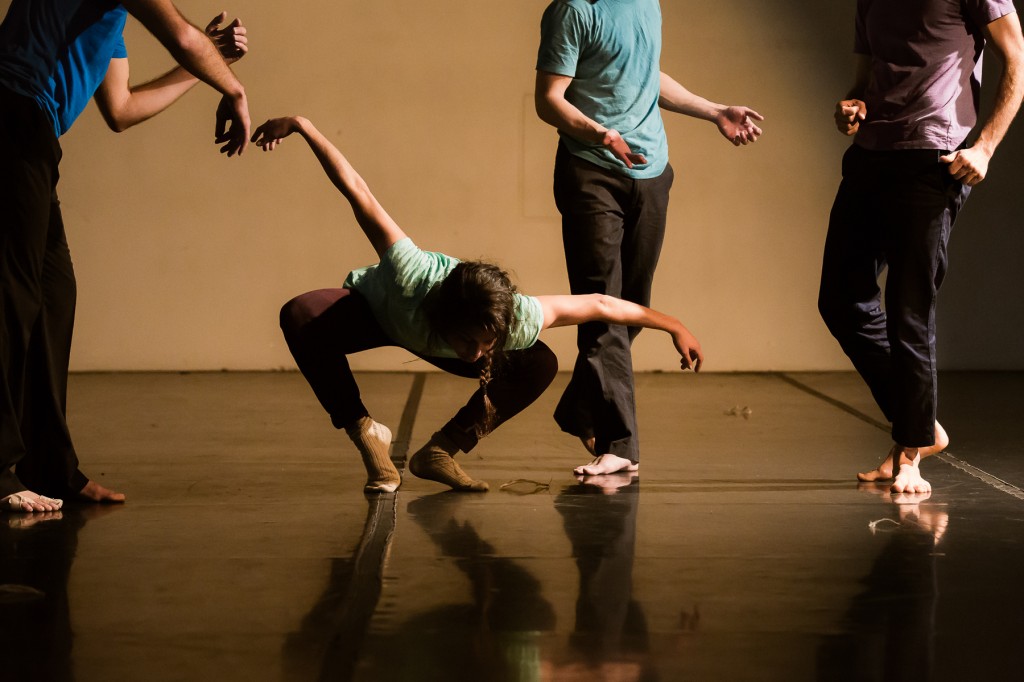 Graham presented Guilty Survivor, a meditation on what it means to live in the aftermath of the 1980's as a gay man in San Francisco, while also dealing with a feeling of "missing the party." The piece expanded on Graham's recent work "Dear Harvey," which was selected for performance with the San Francisco Gay Men's Chorus in their June concert Harvey Milk 2013 at the Nourse Theatre. Joe Goode Annex, November 22-23, 2013.
---
THIRTYSOMETHING
September 24-27, 2013
Daegu, South Korea
Colleagues HyunJung Lee, Maree Remalia, and James Graham created "Thirtysomething" for the 15th Daegu International Dance Festival.  The work dealt with being in their thirties, identity, nationality, and their shared life experiences of living in Israel and teaching Gaga.
---
DEAR HARVEY
James Graham Dance Theatre was invited to premiere this new duet in collaboration with the San Francisco Gay Men's Chorus' concert Harvey Milk 2013, Living the Legacy.  Nourse Theatre, San Francisco, CA. June 26-28, 2013